Writing update: Lown Institute Conference and ACC2015
by John Mandrola, MD
March 23, 2015
Dr. John M
Hi all,
I have been busy in the last few weeks. Here is an update of my happenings and posts.
From March 8-11, I attended and presented at the third annual Lown Institute Conference in San Diego. I have never felt more at home in a conference than I did at the Lown conference. Take a look at the About Us page of the Lown Institute and you will see why.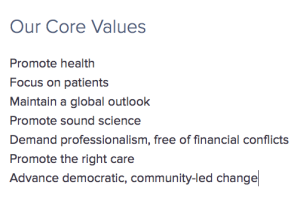 Lown Institute Core Values
No matter how things turn out for me in Medicine–today or tomorrow–I am happy and proud to be on the same side as Dr. Bernard Lown and his Institute. The motto of the conference was RightCare. That is perfect. Here is a link to a front page story in the San Diego Union-Tribune on the meeting.
To read the full article, click here.