"What worries you most?" Survey examines patients' biggest health care worries
What are Americans most worried about when it comes to health care? The Right Care Alliance Patient Council conducted a survey of more than 1,000 patients from across the country, to find out patients' biggest health care concerns. In a recent post in The Health Care Blog, RCA members John James, Robert M. Scully, Casey Quinlan, Bill Adams, Helen Haskell, and Poppy Arford explain their results.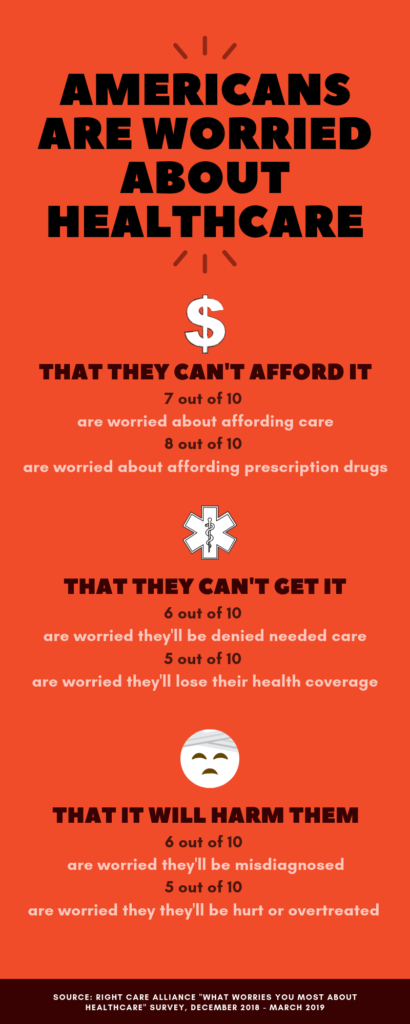 The survey participants were mostly middle-age and older adults. About half of the participants were age 40-65 and another 38% were over age 65. Most survey respondents (68%) were female. The vast majority of respondents were insured through either Medicare or their employer. Responses to the survey came from all over the country, though most respondents were from the East Coast, Midwest, or West Coast.
Among the survey respondents, the biggest worry was the cost of health care–specifically health care premiums and prescription drugs. About 55% of respondents were "very worried" about affording prescription drugs, and 60% were "very worried" about affording their premiums. About 43% greatly feared getting a surprise medical bill.
Given that most respondents have health insurance, it is interesting that so many are still worried about affording care. These results further support a pattern that health care researchers have seen: Health care coverage is increasing, but rising health care costs and greater cost-sharing is leading to less affordable care overall. The survey authors also reported that "people without health insurance were consistently more worried than other insurance groups, especially when it came to being denied needed care."
Fewer patients–but still a significant amount–expressed worries about health care quality: being overtreated, misdiagnosed, or getting an infection while in the hospital. Between 25-30% of patients were "very worried" about these quality issues. Another theme of health care concerns was trust and communication; about 30% of respondents were "very worried" about finding a doctor they could trust, or that they would not be given the information they need to make an informed decision.
This survey shows that cost, quality, trust, and communication are key areas for health system reform. "Our survey has given direction to what the American healthcare industry must change to earn back the trust of patients it is supposed to serve," the authors wrote.