Private practice or private equity practice?
The involvement of private equity in health care is a relatively new development, but one that is starting to gain public attention–for good reason. Stories in recent years have shown how private equity acquisitions in health care can lead to surprise bills, overtreatment, and poor-quality care.
With the physical and financial health of patients at stake, it is important to understand this phenomenon of private equity investment in health care. How quickly are private equity firms acquiring physician practices? Which specialties are being targeted?
A recent research letter in JAMA helps to answer these questions. The study, conducted by Dr. Jane M. Zhu at Oregon Health and Science University, Lynn M. Hua at the Wharton School of the University of Pennsylvania, and Daniel Polsky from the Carey Business School at Johns Hopkins University, finds that private equity ownership of specialty practices more than doubled from 2013-2016.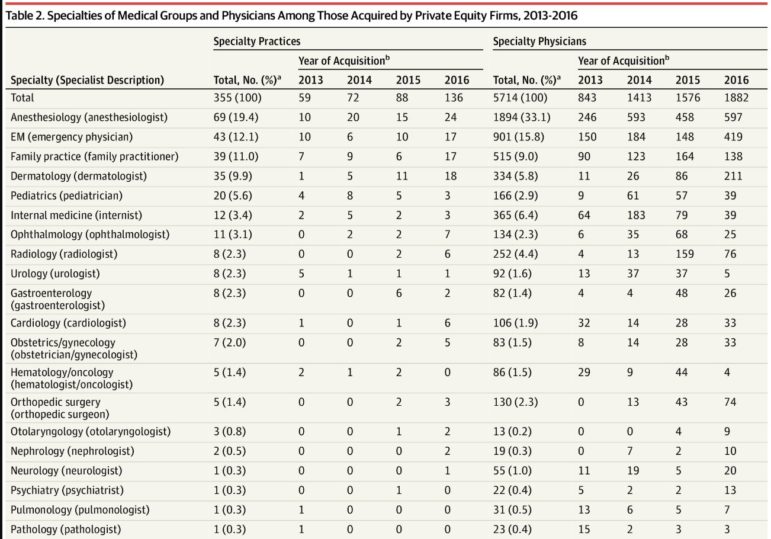 Zhu et al. found that anesthesiology, emergency medicine, family practice, and dermatology had the greatest number of acquisitions in total from 2013-2016. These specialties also had the greatest number of practices acquired in 2016.
However, a few other specialties are starting to get bought up very quickly. Opthamology, radiology, cardiology, and gynecology practices all had steep jumps in the number of private equity acquisitions just in 2016, indicating a potential trend in acquiring practices in these specialties.
Why has this been happening?
Why are private equity firms buying up private practices so rapidly? In short, the potential for profit for both private firms and physicians is tempting. By putting several individual practices under one company, private equity firms can reduce administrative costs and gain market power to negotiate higher reimbursement rates with insurers–which means more profit.
Private equity firms are also tapping into some physicians' frustrations trying to stay financially sustainable in an increasingly complex health system. From adopting new health care information technologies to achieving quality measures, physicians can spend hours on administrative work just to keep their practice afloat. Turning to private equity for an "injection" of capital can seem like an easy solution.
How has this been happening?
In a commentary on the UPenn blog, Zhu explains how private equity firms exploit legal loopholes to acquire physician practices:
"Because private equity firms are prohibited from owning physician practices in most states, a typical acquisition strategy involves linking a private-equity owned physician management company with a physician-owned medical group. These medical groups are often large 'platform' practices that have a substantial community footprint in terms of office locations, market reach, and reputation."
Unfortunately, this trend does not seem to be slowing down anytime soon. Private equity deals in health care broke records in 2018 and were projected to do so again in 2019.
Why should we care?
If you follow our blog regularly (or if you saw the Shkreli Awards this year), you have seen how private equity buyouts can affect health care quality and costs. Here are just a few examples:
As Zhu writes, examples like these "highlight the need for longitudinal research that examines the effects of private equity acquisition of physician medical groups on care delivery and health outcomes."