PRESS RELEASE: Slowing US, European death rates from COVID-19 reflects recovery in China, study shows
FOR IMMEDIATE RELEASE
While deaths continue to mount, social distancing efforts in eight countries appear to be slowing their increase down, following closely the path first seen in China
LONDON, UK and BROOKLINE, MA — New research analyzing COVID-19 death rates in Italy, Spain, France, USA, UK, Germany, Netherlands, and South Korea shows a strong correlation between implementation of social distancing measures and declines in the daily growth rate of deaths. The declines all track tightly with the pattern seen in Wuhan, China, allowing for estimates of total deaths and maximum daily deaths.
The study, "An international comparison of the second derivative of COVID-19 deaths after implementation of social distancing measures," including relevant charts and tables, is publicly available on the MedRxiv preprint server.
In Italy, which has been tracked since a lockdown was put in place on March 8, the trajectory has been aligning closely with Wuhan. If this continues, daily deaths are already close to their peak. Assuming social distancing can maintain a similar trajectory for all the tracked countries, the daily death toll should be falling by mid April.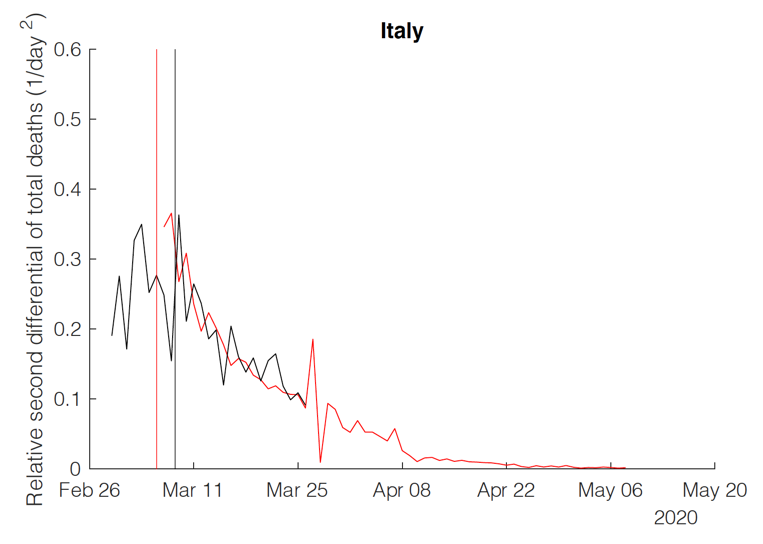 The analysis, led by scientists at the Imperial College London and Lown Institute in Brookline, Massachusetts, suggests that interventions to increase social distancing are effective, even though countries have implemented measures of different intensities. In addition, predictions of daily and total death rates confirm that the sooner social distancing measures are put in place, the lower the total death toll.
The study was initiated and led by Professor Tom Pike of Imperial College London, a planetary scientist who began looking at the data during his own home isolation. "We were seeing that the early growth in death rates was falling, so I compared that slowing to what we had seen in China. To my surprise, I could see that all these countries seemed to be following a similar pattern, though with different delays from the start of their epidemic. This work felt very personal – halfway through writing this up with Vikas, I came down with COVID-19 myself."
As the virus spreads to other countries, there will be more deaths, but the findings suggest efforts at social distancing may be working. "It's heartening to think that the policies being implemented have exerted some control over the path of this virus and have allowed us to stop being at the mercy of the unknown," said Dr. Vikas Saini, president of the Lown Institute and co-author of the study.
ABOUT IMPERIAL COLLEGE LONDON
Imperial College London is one of the world's leading universities. The College's 17,000 students and 8,000 staff are expanding the frontiers of knowledge in science, medicine, engineering and business, and translating their discoveries into benefits for our society.
Imperial is the UK's most international university, according to Times Higher Education, with academic ties to more than 150 countries. Reuters named the College as the UK's most innovative university because of its exceptional entrepreneurial culture and ties to industry.
ABOUT THE LOWN INSTITUTE
The Lown Institute is a nonpartisan think tank dedicated to transforming America's high-cost, low-value health system. We conduct research, generate bold ideas, and create a vision for a just and caring system of health that works for all. Follow us on Twitter, Facebook, and LinkedIn.
CONTACT
Aaron Toleos, Lown Institute, USA, (978) 821-4620, atoleos@lowninstitute.org
###