Vikas Saini
President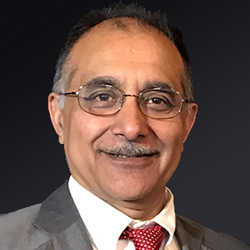 Vikas Saini, MD is president of the Lown Institute. He is a clinical cardiologist trained by Dr Bernard Lown at Harvard, where he has taught and done research. He has also been an entrepreneur as scientific co-founder of Aspect Medical Systems, the pioneer in noninvasive consciousness monitoring in the operating room with the BIS device. He was in private practice in cardiology for over 15 years on Cape Cod, where he also founded a primary care physician network participating in global payment contracts.
Dr. Saini is Board-certified in Cardiovascular Disease, Internal Medicine, and Nuclear Cardiology. He has served on the faculty of Harvard Medical School and the Harvard School of Public Health, where he initiated the first course focused on policy translation for cardiovascular disease prevention.
In April 2012, Dr. Saini convened the Avoiding Avoidable Care Conference with the noted author Shannon Brownlee. This was the first major academic conference focused on the problem of overuse of health care services. Dr. Saini led the international writing group of the Right Care series of papers commissioned by The Lancet and published in January 2017. With Ms. Brownlee, he is a convener of the Right Care Alliance, a grassroots network of physicians, nurses, patient activists, and community leaders dedicated to creating public demand for care that is safe, effective, affordable, and just.
Dr. Saini has spoken and presented research about avoiding unnecessary care at professional meetings around the world and has been quoted in numerous print media, radio, and television.